These are the brief escapes, sometimes spur of the moment, that serve as respites from the trying demands of the modern world. They are meant to be savored and brought to mind often as a remembrance of the multi-faceted joys of life itself.

Twenty years ago the world had not quite discovered the charms of Maui, one of the most interesting of the Hawaiian islands. Using the Intercontinental Hotel as base, I explored the pounding surf, flora, fauna and humpback whales of this Pacific paradise, bathed in the trade winds. One highlight that cannot be missed is to take in a sunrise at the summit of Haleakala, a 12,000 foot extinct volcano out of which grew the eastern half of the island. The weather on top can be surprisingly unpredictable, and cold, but the experience is almost pagan in its intensity. For those intrepid souls who make the trek, watching the sun rise from below the clouds is simply majestic.

Before I proposed to my wife, she first had to pass the ultimate companion test — skiing alone with me. In March 1988 Lourdes and I traveled to Jackson Hole, Wyoming in mid-March, the perfect time for Rocky Mountain powder dumps. But my little snow goddess lost her charm briefly, so we headed off in a Jeep 4X4 south to Utah, driving through a blizzard and arriving at Snowbird just as Little Cottonwood Canyon was closed. The lifts opened the next morning, after avalanche-clearing, with three feet of fresh, light powder snow, and we got first tracks, resulting in this ultimate ski action photo. And yes, Lourdes kept up gamely, as she still tries to do after all these many years together. Most of our skiing vacations are still planned (or not, depending on your perspective) the same way, an endless winter of following the snowfalls.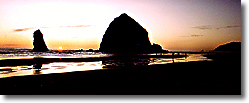 When I travel on business I often like to combine a little exploration. So it was in the summer of 1992 when I had found myself in Portland, Oregon for a client. Buying a few disposable cameras at a convenience store, I headed west, through logging country, to the rocky northern Pacific coastline. There I stumbled upon Cannon Beach, a lovely town whose distinctive feature is Haystack Rock. Waiting for sunset wading in the cold surf, I captured this image — one of my favorite photographs — with the very last shot on my last roll. But it was sell worth it. I would return a decade later with my family for another visit. The water was just as cold and the rocks just as inspiring.

I have included this 1994 visit to my mom's house in Hudson County, New York not because the trip was so memorable, but rather because this photo for me captures the epitome of my son as a little boy. Nothing was special, but everything was new. Fun could be had doing ordinary things for the first time, like walking through a pumpkin patch where the vegetables are almost as high as Allan at three years old. My son had already become a veteran traveler by this time — with his own frequent flyer numbers — and this weekend trip on Columbus Day was just a short hop in comparison. But it is the stuff of which memories are made.
Personally I have always been intrigued by pre-historic ruins, suggesting as they do a certain Chariot of the Gods explanation for the mysteries of life. And in 2002 I finally got my chance on a weekend jaunt to London —

smack in the middle of a European heat wave. Stonehenge is the largest and most famous of these ruins in England, having been built some 5,000 years ago, even before the Great Pyramids at Gaza in Egypt. The sight of this ancient temple rising out of Salisbury Plain is something to behold. Whether it will ever be completely understood is doubtful, but standing there along side these massive sarcens, carved with stone tools and moved hundreds of miles by people from a civilization now long departed, cannot but make one reflect on the countless generations of human beings who have walked the Earth before us.