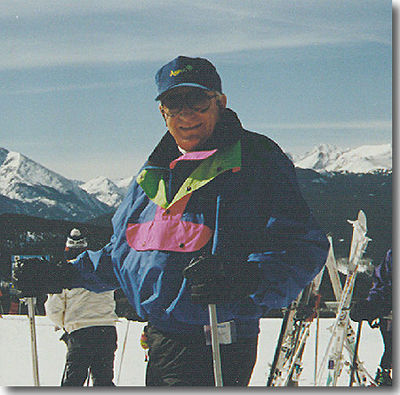 Gerald Manishin


July 1, 1930 - November 15, 1991

Dad always wondered what was the measure of a man. He repeatedly stressed to us that one of the measures of a man's life was how you live your life and the way you treat the people around you.

Over the last week, he taught us that another measure of a man's life is the way you choose to leave this world. Dad left with dignity and with grace, fighting the whole way.

Although a terrible thing happened to him, he didn't focus on the bad, but rather, chose to focus on the good. Dad repeatedly cautioned us to live as if the cup was half full, not half empty. He lived and died with this same attitude.

Over the last week, Dad used the time he had left not to dwell on the unfairness of the terribly swift change in his medical condition, but rather to revel in his remaining days among us. As most of you know, Dad's plan and expectation, until just about one week ago, was to live a long and full life and to move with our Mom to their dream house in Upstate New York.

He courageously sought out and tried every available option for dealing with his cancer and, when those options all turned bad, gave the same courageous effort to his death. For the family and friends who had an opportunity to visit with him in his final days to say goodbye, we are astounded by the miracle of his spirit. For those who were too late, remember that he cared about you and would have loved to spend a few moments with you, if he could.

We are all truly touched and gratified by the outpouring of love and affection from Gerry's extended family at Roche. We had known that he was good at his job, but were frankly astonished to meet and see our Dad with the many young people for which he has been a Mentor, Teacher and even a second Father. The respect and reverence you have shown for Gerry has been as inspirational to us as he clearly was to you. You have given us a memory of him we will always cherish.

Now for the anecdotes which define the man better than any eulogy, or, according to Dad, "Enough of the heavy stuff:"

Dad's ability to fall asleep in front of the TV set but his inability to accept the fact that he had been asleep and had been snoring.

Dad's requirement that my brother and I learn how to change tires before we were permitted to drive his cars. Most of which we wrecked eventually anyway, including his Porsche.


Our family's annual Thanksgiving day festival where Dad insisted on being the one to carve the turkey. He was so proud of his carving abilities, that none of us really know how to carve a turkey. Next week we intend to make him proud.


How Dad engaged all of us in "forced labor" by requiring us, every Saturday, to help him in the yard pruning the shrubs and hauling yard waste like common laborers.


Most importantly, Dad loved to ski and used to gloat over the fact that he was a better skier than Mom. His ski partner, my sister Laura, will never forget skiing with Dad at Jay Peak, getting stuck in a snow bank, pulling my sister in after him and then laughing so hard that they both peed in their pants. And of course he always loved the Apres Ski at the bar.


Dad's vanity in front of the mirror was legendary, and even worse than my brother Glenn.


The fact that Dad was color blind, and we had to help him pick out his ties for him each morning, and fight over what color anything was.



Watching Mom and Dad glide across the dance floor. Seeing the electricity between them, this we will miss.

A

ll of these things and more will never be forgotten. We loved him as a Dad, and will miss him dearly as a friend. Dad's most important request for all of you today is not to cry for him. Remember the good times, celebrate his life and have a drink, of Chivas or Hennesy XO, for him.