Posted in
The Sporting Life
on September 16th, 2013 by glennm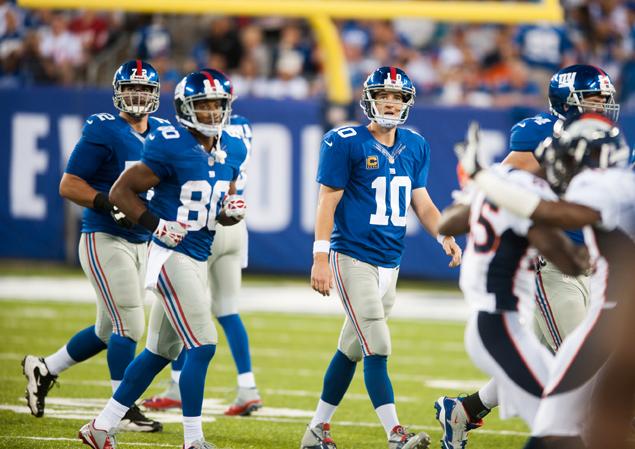 Dubbed as the "Manning Bowl III," yesterday's match-up between the Denver Broncos of Peyton Manning and the Giants, led by his little brother Eli, was not just a 41-23 rout. It exposed the dark underside of the New York offense, which has been utterly incapable of running the ball, as well as the failure of its vaunted defensive line to put any pressure on opposing quarterbacks.
Some of this is attributable to age, but a lot of its is the odd reality that the GMen have for several seasons now lived or died by the big play. 50+ yards at a shot is doable — and done several times a game — but simple stretch plays and screen passes are just beyond the competence of this year's squad.
The saving grace is that the 2007 Giants are one of just a few teams to have started an NFL season 0-2 and gone on to win the SuperBowl. But as NFLNation commented:
After a stinker of a loss to the Denver Broncos on Sunday night dropped the 2013 Giants to 0-2, you knew you were going to hear and read all about '07, because in the NFL it's always about one thing that's happened in the past that's a little bit like the thing that's happening now. It's hogwash, though. Straight-up hooey. The Giants can't be trading on yesterday in an effort to fix today's problem. This right here is a whole new challenge for Tom Coughlin and the Giants' veterans, and one of the few positives
Living in '07 won't rescue Giants in '13 | ESPN New York.
Related Posts:

Tags:
football
,
Giants
,
NFL