Posted in
Politically Incorrect
,
War On Terrorism
on May 5th, 2011 by glennm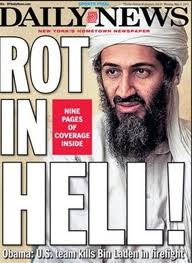 Everyone is walking back the cat on this issue. Waterboarding yielded nothing related to the courier who ultimately led to bin Laden's Pakistan compound. That doesn't prove torture was useless from an intelligence standpoint, but Abu Ghraib and Gitmo certainly didn't produce "actionable intelligence" on bin Laden's location, or else W and company could have tracked him down many years ago.
As I've noted earlier, it's "hard to believe that for nearly a decade after 9-11, the United States was still not been able to find a 7-foot Arab in Pakistan hooked up to a dialysis machine!"
John Yoo, the former Bush Justice Department lawyer who twisted the Constitution and the Geneva Conventions into an unrecognizable mess to excuse torture, wrote in The Wall Street Journal that the killing of Bin Laden proved that waterboarding and other abuses were proper. Donald Rumsfeld, the former defense secretary, said at first that no coerced evidence played a role in tracking down Bin Laden, but by Tuesday he was reciting the talking points about the virtues of prisoner abuse.
The chair of the U.S. Senate's intelligence committee countered that "enhanced interrogation" did not help the bin Laden operation in any way.
More and more evidence suggests a key piece of intelligence — the first link in the chain of information that led U.S. intelligence officials to Osama bin Laden — wasn't tortured out of its source. And, indeed, that torture actually failed to produce it.
Senate Intel Chair: Torture Did Not Lead To Bin Laden In Any Way | TPMDC.
Related Posts:

Tags:
Al Qaeda
,
Obama
,
terrorism
,
W