Posted in
Social Media
,
Travel
,
Wonder Wonder
on October 31st, 2012 by glennm
My beautiful new wife and I had wonderful reservations in New York City for a romantic weekend retreat, followed by a two-day business conference. As we were training up from DC early Saturday afternoon, the conference was cancelled. We decided, however, to press on, thinking that a few days of chillaxing with room service and nice evening outings would withstand whatever nature could throw by way of "Frankenstorm" at Manhattan Island.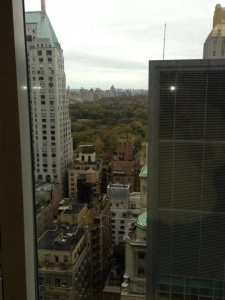 FAIL. What we did not figure was that our tremendous four-room 34th floor suite overlooking Central Park would be 1/2 block east and about 45 stories down from the dangling construction crane that collapsed Monday afternoon. So six hours later — at the height of the wind — NYFD ordered the evacuation of our hotel. We spent several hours trying to descend as everyone was using the elevators simultaneously, but somehow managed to score a room at another hotel four blocks (and a $40 limo ride) away.
Several things struck me during this odyssey. First, social media produced a deluge of well-wishes and offers from old friends for shelter, assistance and the like. I love you all. Second, that limo ride epitomized the large hearts of human beings. My wife and I were hauling luggage across deserted NYC streets. with rain flying sideways in winds of 50+ mph. When the limo pulled over, we jumped in and asked, only on arrival, what we owed. The answer —"whatever you think is fair" — was both humane and ingenious. I don't know the driver's name, but he is a true mensch.
Lastly, when the mass transit, theaters, restaurants, bars, shops and tourist attractions in NYC are all closed, New York — the "city that never sleeps" — is incredibly boring. The Carnegie Deli was open on Monday for early brunch, but of course the "doggie bags" were lost in our evacuation. Somewhere in the fancy Parker Méridien hotel is a bag containing 1/2 of an unfinished "Woody Allen" (half pastrami, half corned beef) sandwich and a large strawberry New York cheesecake. I hope the staff enjoyed our leftovers!
BTW, we finally decided on Wednesday morning to try return options other than Amtrak or the airlines, which were just coming back online but were sold out through Thursday evening. A bit over $50 for an Avis rental (with a rather large taxi fare to Newark airport), we returned safely to our metro DC home an hour or so ago.
For my (few) loyal readers, please do not view this as crankiness. I am profoundly thankful to have survived with just a bit of inconvenience while millions remain without power and thousands have lost their homes, livelihoods and, in about 60 cases, lives. Don't fool with Mother Nature, even in New York City.
Glenn @ Le Parker Méridien New York.

Related Posts:

Tags:
climate change
,
hurricanes
,
nature
,
Sandy
,
weather